Chocolate Brownies (gluten free)
by Joanna Gray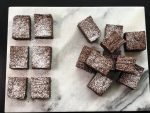 Indulgent, delicious, gooey in the middle chocolate brownies!
Ingredients
175 g / 6.17 oz butter unsalted, softened
100 g / 1 cup powdered sweetener
3 eggs
40 g / 1/3 cup cocoa powder unsweetened
175 g / 6.17 oz dark chocolate at least 85% cocoa solids, melted
75 g / 3/4 cup almond flour
Small pinch of salt
Method
Preheat your oven to 180 Celsius / 356 Fahrenheit
Melt the chocolate: Break the chocolate into squares and place in a small bowl. Place this bowl inside a larger bowl which you have filled with boiling water. The water will heat the walls of the small bowl and melt the chocolate.  (see notes)
Blend the VERY soft (or melted) butter, powdered sweetener, eggs and cocoa with a blender or in a food processor.
Add the melted chocolate and almond flour and mix until you have a thick, smooth batter.
Line a rectangular baking tin or small casserole dish with baking / parchment paper. Cut the paper to size so that it covers the bottom and two sides of the dish. Grease the two remaining sides.
Fill the batter into the dish and smoothen the top. Bake 25 minutes or until the top is firm.
Let the brownies cool before you remove them from the baking tin. They will be VERY soft when warm, but firm up as they cool down.
Recipe Notes
DON'T OVERHEAT your chocolate!!!!! Using a water bath is a fool-proof way of melting chocolate because it will never curdle or get hard. If you melt chocolate in the microwave, make sure you choose a low intensity and keep on checking you're not heating it up too much.
I used Lindt 90% chocolate. You can also use sugar free cooking chocolate.
Adjust the amount of powdered sweetener accordingly.