Skinny Tarts
by Joanna Gray
A great crowd pleaser! Served in individual portions they are perfect for any occasion
These are my favourites! They are my replacement to quiche, so you can create your own flavour – just like quiche, without the guilt of all that pastry!
I'm showing you Feta and spinach on this occasion.  There are so many Skinny Tarts to choose from.
Eggs provide the protein, cream and milk providing the good fats.
Feta is one of the healthiest cheeses, made from either sheep or goat's milk, full of protein and magnesium it also supports a healthy immune system. This classic combination of feta and spinach deliver on fibre, zinc and flavour!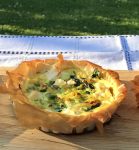 Ingredients
(makes 8 individual tarts)
2-4 sheets of filo pastry depending on the size of the sheets
1tsp olive oil
200g of washed spinach
3 eggs
200g Feta cheese
450ml double cream
½ tsp of pureed garlic
Parmesan (grated) for sprinkling on top
½ Nutmeg
Sea salt to taste
Freshly ground black pepper to taste
Melted butter to brush the filo
Method
First heat a shallow pan and add the olive oil
Then add the spinach wilt it a little at a time until it has all been done.
Drain off the excess fluid,
take it out of the pan grate in some Nutmeg and mix through and set aside for later.
In a large mixing bowl, crack in the eggs, add the cream and whisk until combined
Grease the Yorkshire tins ready for the filo to go into
Lay the filo out on a board and divide into squares to fit the individual sections in the tin. (you will need to work quickly as the filo will dry out)
Brush the filo with the melted butter if need be
I like to have 2-3 small squares per section
Place one square cut sheet into the base of the tin and then another at an
angle and then the third (being careful there are no rips or holes.
Bring up the edges to make a little ridge (this can be done quickly)
Brush with butter
Now add spinach and feta to each section.
To the egg and cream mixture, add salt and pepper to taste along with the garlic puree, give it one last whisk
Now pour the mixture into each of the eight sections on top of the spinach and feta – being careful not to over fill. (if you have any spare mixture it can be used for frittata or more skinny tarts.
Sprinkle each Skinny Tart with parmesan
Place in the oven for about 10 mins or until golden on top.
Leave in the tin to cool, then carefully take them out and enjoy on their own, or with a crisp salad of your choice.
Essential Kit
You will need 2x 4 Yorkshire Pudding tins
These tins are perfect as there is space for four tarts in each tray plus they are
quite shallow.