Zesty Zucchini Linguini
by Joanna Gray
Zesty Zucchini Linguini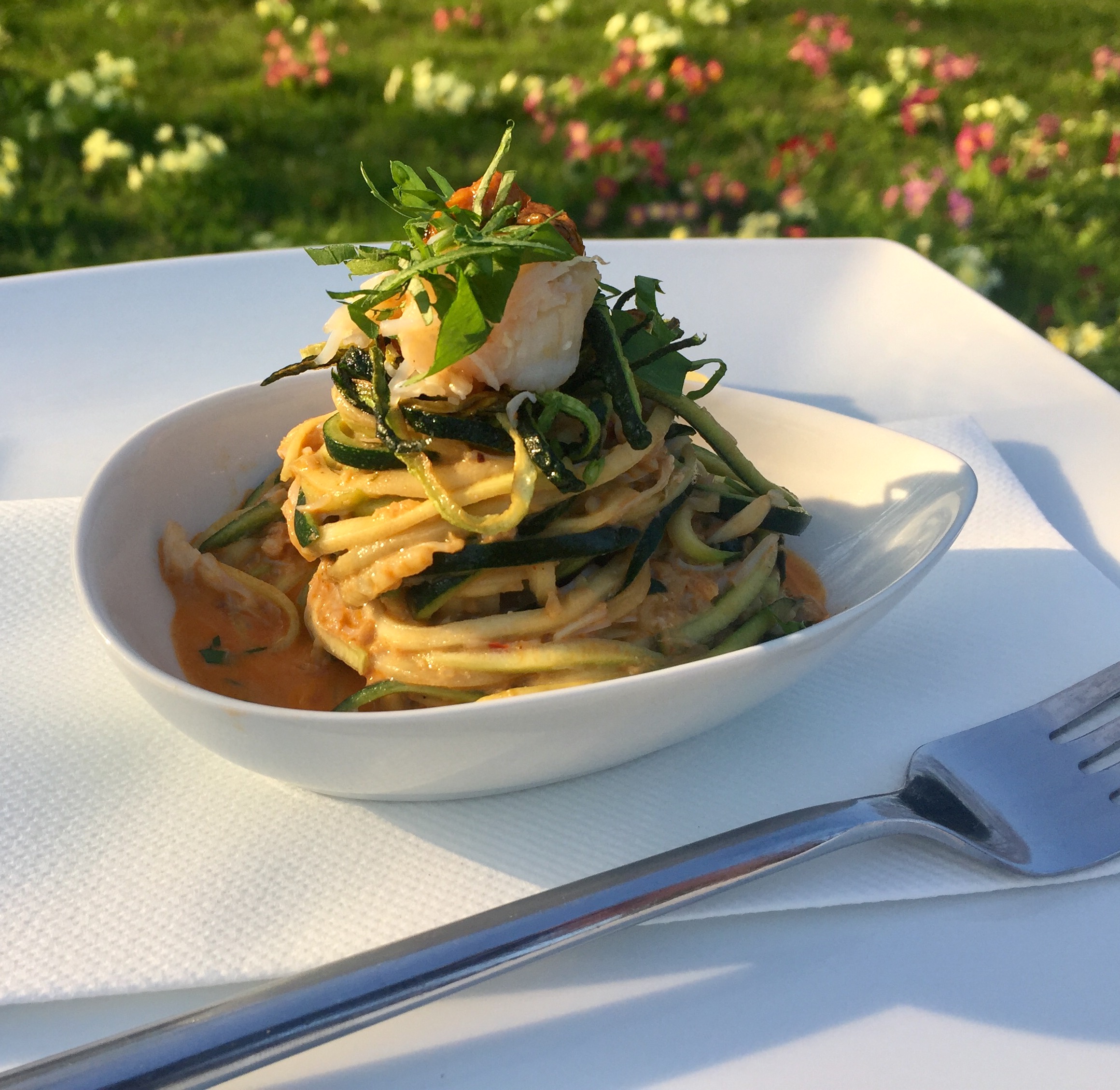 Zesty Zucchini Linguini
Serves 2
2 zucchini green or yellow medium sized
2 tsp ginger garlic and coriander zapped down to a paste (mums mix)
100 grams White crab meat
1 onion finely chopped
table spoon of fresh coriander chopped
2 tsp Rose harrisa
2 tsp sundried tomato paste
2 tsp Umami paste
Zest of 1 lime
Juice of 1 lime
Dash of olive oil
Sea salt
Touch of water if needed
Method
You can either use a spiralizer that you turn to create your linguini shaped zucchini or a hand held one with work too.
Work your way through both zucchinis and then lay them out on kitchen towel and sprinkle with a little salt.  Cover with another sheet. This will get the the excess liquid out of the vegetable and prevent the dish from going too soggy! Put them to one side.
Now for the sauce –
Heat the pan
Add the oil
Add the onion and cook until transparent and soft
Add mums mix and continue to cook on low heat
Now for the tomato and Umami pastes
Drop in the harissa – add more or less to your own taste
Keep stirring throughout
Add a drop of water if needed, the consistency should be a slightly thin sauce that will coat the zucchini
Add in the ¾ of the crab saving the rest for dressing the dish at the end.
Turn off the heat
Taste the sauce check for seasoning and ½ the lime juice and ½ of the zest
Give it a good stir making sure the sauce is hot – with the heat off place the zucchini linguini in to the pan, with two spoons make sure the zucchini is covered.
On a warm plate, twirl the delicious coated strands on a fork and place in the centre of the plate adding a little sauce from the pan.
Top with the remaining crab and a touch of harissa
Not forgetting a generous squeeze of lime, the remaining zest and some chopped coriander leaves
Enjoy on its own or with some fresh rocket.